Our pet resort is located near the beautiful St. Lawrence Seaway, on the boarder of Quebec and Ontario. We service pet owners residing in the areas of St. Zotique, Valleyfield, Dorion/Vaudrieul, urban areas of both Montreal and Cornwall and the Stormont, Dundas and Glengarry region in Ontario. John, Madelene and their triplet children welcome both you and your pets to our warm and cheery pet care facility.
Both John and Madelene have many years of experience taking care of various pets. We are proud owners of a dog, two cats, fish and turtles. Madelene cared for many animals while growing up on a dairy farm. In later years Madelene's parents opened up a beautiful and very successful pet boarding facility located outside of Ottawa. Currently Madelene's younger sister and some extended family members also own and operate their own modern pet boarding facilities. After both completing post-secondary education, Madelene and John worked many years in their chosen fields near Toronto. However we both had the knowledge and a desire and a long term goal to open our own new and modern pet boarding facility.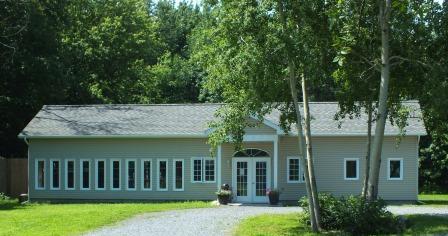 Our goal and dream is now complete as we welcome you to our new modern, clean and spacious pet resort located in South Glengarry Township, Bainsville Ontario. Close proximity to Montreal, Cornwall and surrounding communities. We are easily accessible, being located only 5 minutes off hwys 401/20 making it very easy to drop off and pick up your pet. We encourage and welcome you to come and visit before booking your pet with us.
Contact us at 613-360-5505 or Pets@belleviewpetresort.ca